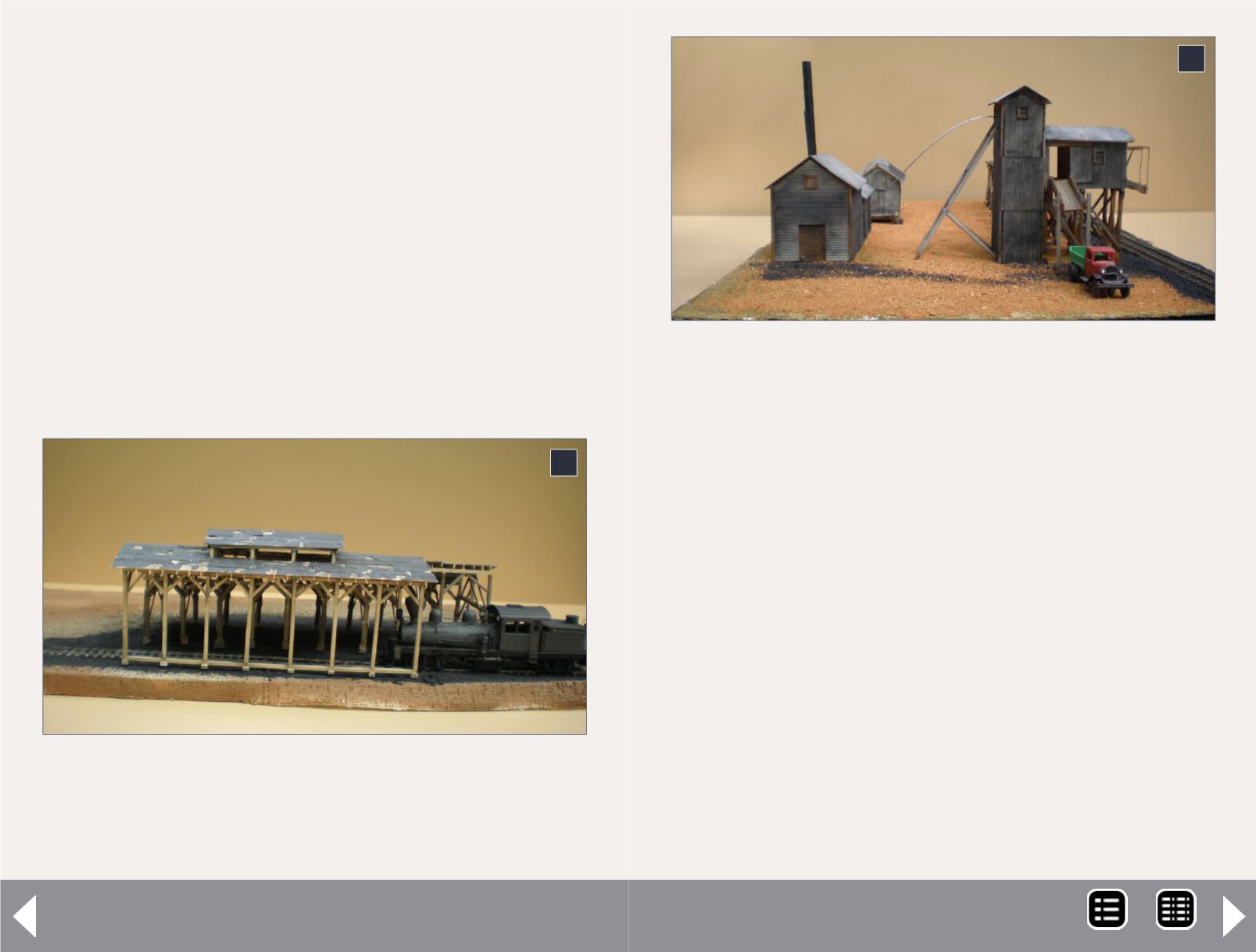 The company houses and stores were most common, and the
majority were of wood construction; this will be reflected on
the layout. A typical company house had board-and-batten
siding and was small, usually no more than two or three rooms.
Other types of sidings were used and are reflected in the kits
offered by different companies. If you don't want to go to
the trouble of either scratchbuilding or kit-building, there are
several houses on the market that are easy kitbashes. Those
kitbashes are a possible future column, as they fit perfectly
into the theme of this column. A hint – one of the kits is an
inexpensive one with lots of extras produced by a major
Coal tipples are the primary reason my railroad exists, and
there will be several, as there were on the Virginian layout.
However very few were identical in their looks, based on the
type of mine they served.
7: Shay 8 sitting at the Oak Crest engine shed. Detail
includes a service pit and an overhead chain hoist. A tim-
ber retaining wall will go below the engine house when it
is installed on the layout.
7
The Lite and Narrow Column - 5
A main criticism that I have of both the Virginian layout and the
Turtle Creek extension is the heavy reliance on the Walthers
New River tipple for kitbashing. The Walthers New River tipple
is based on the Edna tipple located on the D&RGW in Colorado.
Being from Colorado doesn't make this an objectionable
model for eastern coal tipples, but there are only so many
modifications you can do to alter its appearance. The kit also
has some shortcomings, especially the legs under the loading
building, which are too thin in cross-section. These need to be
beefed-up even if you use the kit straight out of the box.
In addition to the dog mine, mentioned earlier, there are
currently four other tipples under construction, and two that
are finished, ready for installation on the layout when the time
8: Martinsburg Tipple No.1 from Laser Kit. This tipple will
be located in Coal Valley. The view is of the truck chute
and the end of the hoist house. That is an actual steel
cable that hasn't had tension relieved before installation.
More detail will be added in the way of resin castings and
8