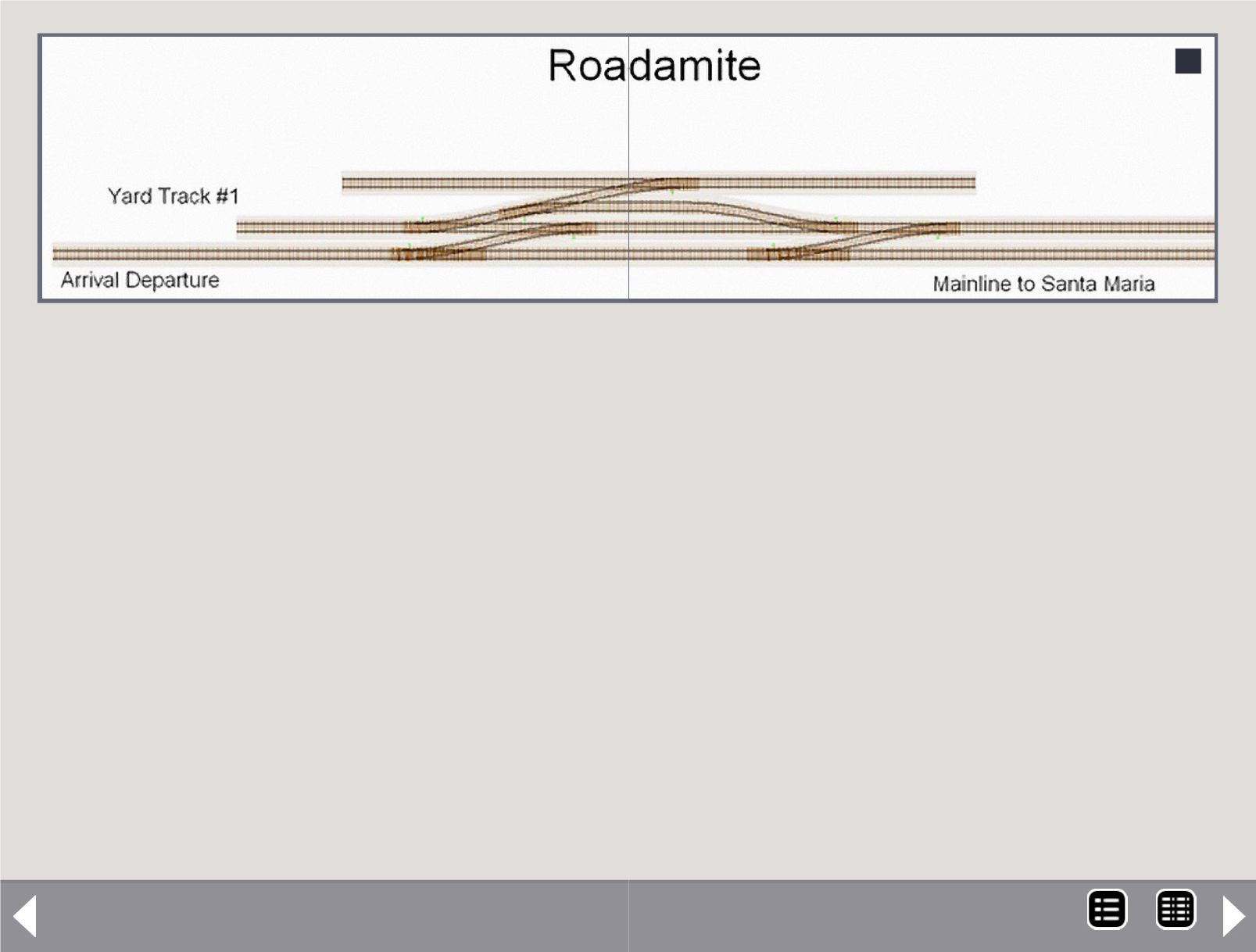 8: The Roadamite track allocation
as can be achieved so the loco can be positioned on their left,
ready to pull the cars to Roadamite. Remember, there may be
cars spotted at the industries and on the "To Guadalupe" tracks.
The run to Roadamite (about ½ hour at prototype speed) can be
simulated by leaving the made-up train and taking a break. After
the break, the train is deemed to have arrived in Roadamite and
the tracks take on new faces as shown in figure 8.
Note that the track layout is the same, just with some new
labels. The Yard Track will be needed to shuffle cars – that
is the reason for the M&S Pipe traffic being off-spotted
previously. A runaround is needed to get the loco on the west
(right) end of the train. Once empties are spotted on the
Arrival-Departure track and loaded cars are attached to the
loco, it is time to head back to Santa Maria, where the track
definitions revert to those in figure 7. Time for another short
break while this run is made.
Once in Santa Maria, off-spots are cleared, if possible. Any
tankers for the refinery are off-spotted. The train for Guadalupe
8
is assembled. The run to Guadalupe is simulated by another
pause in the action, perhaps a soda this time?
When the train arrives in Guadalupe, the tracks are designated
as shown in figure 9. Notice here there is a conflict between
the refinery and stockyard tracks (8) and the Guadalupe Yard
Track #1 (9). Any cars previously spotted at the refinery or
stock yard are temporarily moved to some available space
elsewhere, if the yard track is needed for moves in Guadalupe.
Not prototypical, but needed to make the Guadalupe scenario
function, just like we didn't spot a car at M&S in the first part
Once the interchange cars are spotted on the Arrival-
Departure track and the loco is in the center of the layout,
the future of the outbound cars is in the hands of the SP.
That future consists of removing and replacing some cars and
flipping waybills on others. Once the SP finishes its work, there
is a new consist to pull back to Santa Maria, ready to spot any
off-spot cars and start over servicing the industries.